Seeing a whole lot of purple recently? It's not an homage to Prince. It's Pantone's Color of the Year for 2018, and it's about to be everywhere.
Pantone, the world's leading color authority, typically sets off trends with its annual color choice. So expect fashion and home décor to soon be wrapped in PANTONE 18-3838 Ultra Violet, a color choice they call "a dramatically provocative and thoughtful purple shade (that) communicates originality, ingenuity, and visionary thinking that points us toward the future."
And you just thought it would look pretty in the bedroom.
"Complex and contemplative, Ultra Violet suggests the mysteries of the cosmos, the intrigue of what lies ahead, and the discoveries beyond where we are now," they said. "The vast and limitless night sky is symbolic of what is possible and continues to inspire the desire to pursue a world beyond our own."
In color theory, purple is recognized for its "mystic and royal qualities," and is a soothing color that inspires creativity and "calms the mind and nerves," said Sensational Color.
That makes it a good choice for just about any space in the house, especially if you're trying to stand out, since "enigmatic purples have also long been symbolic of counterculture, unconventionality, and artistic brilliance," said Pantone.
As designlike puts it, you can "use the psychological effects of color purple to create a luxurious and expensive environment to your home. "If it has a bluish shade, it can be serene and calm and gives an air of mystery. Reddish shades attract more attention and dominate the room. Purple color has a long reputation of royalty and power."
Architectural Digest called Ultra Violet "a sort of thematic continuation of Greenery, the 2017 selection meant to evoke ideas of revival and renewal," and said that Ultra Violet "symbolizes the sort of mindfulness and boundary-pushing that ultimately propels each of us – and the world at large – forward." They sought to learn more about the inspiration behind the color choice and how to use it at home from Laurie Pressman, vice president of the Pantone Color Institute.
It has an ability "to play nice with everything from grays and taupes to pastels and metallics (depending on your tolerance for boldness)," she said. "In addition to offering tranquil lighting hues, Ultra Violet will also work well alongside other purples within floral pieces, or in decorative dining accents like candles, plates, or glassware."
Here are some ideas to give you purple inspiration.
Go big
Why just stick to one purple hue? This living room will never get boring.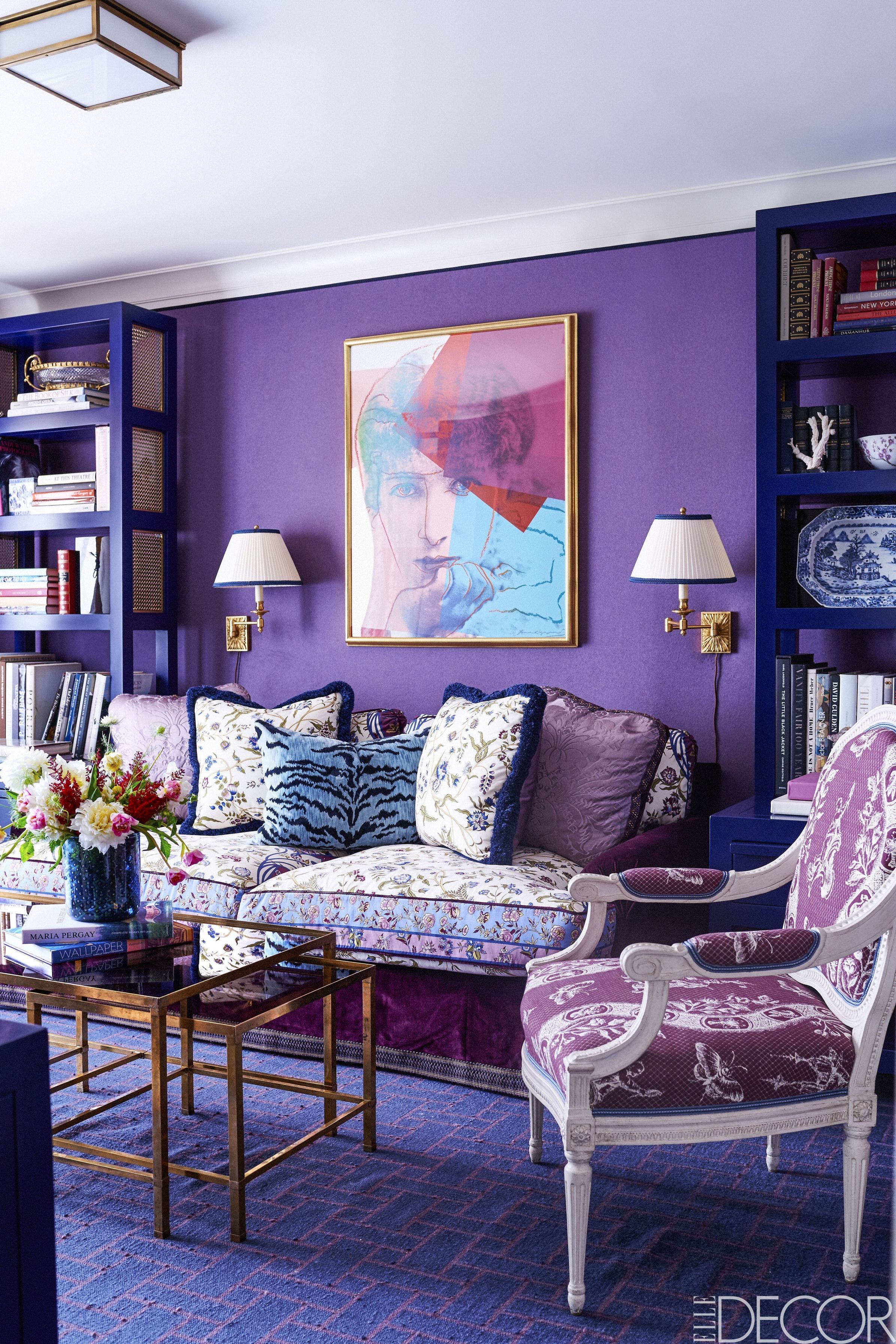 Do it in the bedroomThe same idea works wonderfully in an elegant yet bohemian bedroom. The boldness of purple plays well with neutrals, but look what it does with other bold colors! The space is deep, rich, and luxurious, but also maintains a playfulness.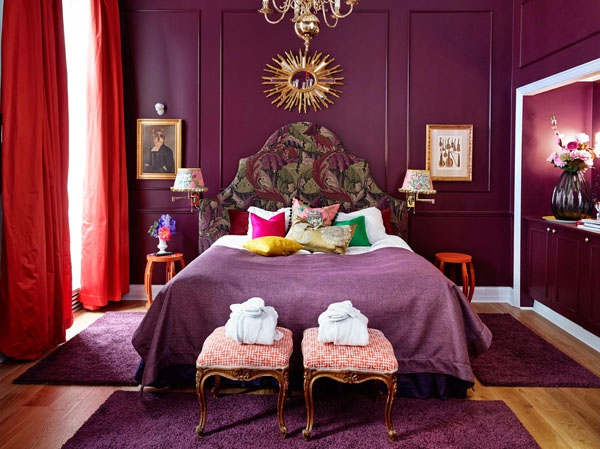 On the other side of the design coin, we have this bedroom, which is entirely neutral expect for the purple punch. By only introducing it in accessories in this space, you can change it up on a whim, or the next time a "Color of the Year" is introduced.
You may not be ready for this level of purple commitment, but wouldn't it be cool if you were?
Purple is a rich choice in the bathroom, providing a chic backdrop for glamorous finishes.
Splash it on the walls and let the natural light provide contrast.

Or, pick a great piece of art that brings in the color and keeps your commitment ultra-low.
You may not have ever thought about a deep purple dining room table, but you may now. Between the clean lines, the glossy finish, and the gorgeous color, this would certainly amp up your dinner parties.
Of course, you don't have to go out and buy one of the most significant pieces of furniture in your home to incorporate the color into your space. The saturated purple of the chairs in this space offers the perfect accent to a room that already has a surprising color element: the black wall. All that white in the rest of the space keeps it light and bright despite the dark colors.

"This striking and glamorous piece will look good wherever you place it – whether it's at the foot of your bed or in your entryway," said Real Simple. "It doesn't hurt that the velvet material is a trend of the moment, too." Or that it is just $150 at Target.